GM Dental and Implant Centre Testimonials
27 / 05 / 2021
Do you have a pending treatment and you are not sure where to go? We hope after reading this and watching some of our patient testimonials will help you decide if we are the right place for you to come and address the issue.
We are a friendly Dental practice located in between Rochester and Strood. We have a lovely team that will do everything to provide you with the service and attention you are looking for.
We are very experienced dealing with nervous patients also, we would say that majority of our patients are nervous patients. We can assure you that you will be in good hands.
Let us show you some Before and After Treatments and also some Testimonials from some of our patients.
Invisalign Treatment Before and After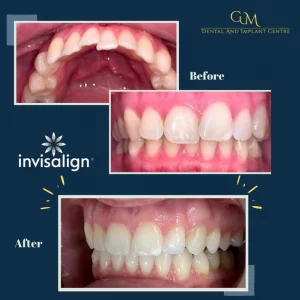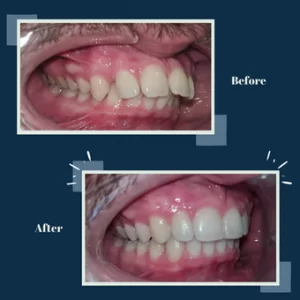 Invisalign is an alternative to wire braces that uses transparent, incremental aligners to adjust teeth. The Invisalign treatment process involves taking a mould of the patient's teeth that is scanned in order to create a computerized model. Using the doctor's treatment plan, the computer model creates stages between the current and desired teeth positions that are used to create moulds for individual aligners. Currently, this is one of the best technologies available to straighten your teeth.
Composite Bonding Treatment Before and After
Composite bonding is quite a modern way to restore teeth, either for cosmetic reasons or to build up tooth structure that has been lost. It involves bonding a tooth coloured resin material to existing teeth to reshape them or improve their colour.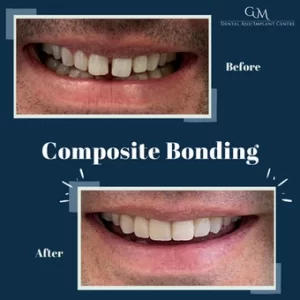 A dental implant is a surgical component that interfaces with the bone of the jaw or skull to support a dental prosthesis such as a crown, bridge, denture, facial prosthesis or to act as an orthodontic anchor.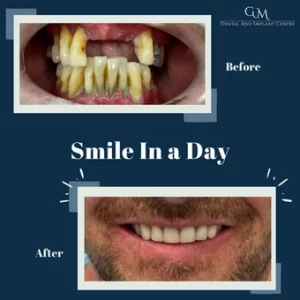 GM Dental And Implant Centre
Our aim is to care for every single patient that comes to us. Treating everyone as VIP, making sure that all of them will have a personalised experience. Also making sure that our patients will achieve the smile that they always wanted to have.
If you would like to get to know our practice or discuss an issue with no strings attached, please give us a call and book a free consultation with one of our dentist's.
Tel: 016 3471 8882
Email: info@gm-dental.co.uk
Web: www.gm-dental.co.uk
Back to Blog