Composite Bonding at Our Dental Clinics in Barnet, Ashford, and Rochester
Transform Your Smile With Composite Bonding.
Are you experiencing chipped, cracked, or stained teeth that are affecting your confidence and leaving you longing for a quick, effective solution?
Look no further than our dental clinics in Barnet, Ashford, and Rochester, where we are experts in providing world-class composite bonding treatments. Our expert cosmetic dentists are here to help you regain your dazzling smile, addressing various dental imperfections with our minimally invasive, high-quality composite bonding services. Let us transform your smile and restore your self-esteem with our exceptional dental care.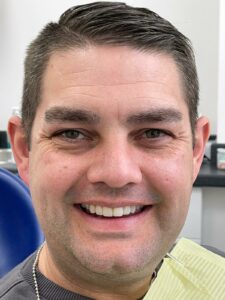 Composite bonding is a versatile and minimally invasive cosmetic dental procedure that involves the application of tooth-coloured composite resin to the surface of the teeth. This advanced technique allows our expert cosmetic dentists to reshape, resize, and restore the appearance of teeth affected by chips, cracks, stains, or other imperfections. Our clinics in Barnet, Ashford, and Rochester are equipped with state-of-the-art technology, ensuring our patients receive the highest quality treatment.
Why choose GM Dental for Composite Bonding or veneers?
Taking Our Time: At our dental clinics, we believe that exceptional results require a meticulous approach. Our cosmetic dentists take their time to assess each patient's unique dental needs thoroughly and carefully plan the treatment to achieve optimal outcomes. This attention to detail ensures that our composite bonding treatments produce natural-looking, long-lasting results tailored to each individual's requirements.
Durable, Long-Lasting Composite Materials: We use only the finest composite materials in our bonding treatments, designed to last twice as long as other options on the market. These high-quality materials offer superior durability and closely mimic the appearance and texture of natural tooth enamel, ensuring a seamless and beautiful result.
World-Class Cosmetic Dentists: Our cosmetic dentists have undergone extensive global training and are recognized as some of the best in their field. Their vast experience and expertise make them uniquely qualified to provide the highest level of care and deliver exceptional composite bonding results to our patients.
Tooth Artistry: Our cosmetic dentists are more than just dental professionals; they are also true artists, possessing the skills and creativity to transform your smile into a masterpiece. By carefully sculpting and shaping the composite material, our dentists can create a harmonious, aesthetically pleasing smile that enhances natural beauty and boosts self-confidence.
Composite Bonding Services Offered
Composite Bonding: This popular treatment is perfect for patients who want to address minor imperfections such as chips, cracks, or gaps between teeth. Our cosmetic dentists will carefully apply the composite resin to the affected area, expertly sculpting and polishing it to blend seamlessly with your natural teeth.
Edge Bonding: Edge bonding is an ideal option for those requiring minimal teeth adjustments. This targeted approach involves applying composite material only to the edges of the teeth, subtly enhancing their shape and appearance without the need for extensive treatment.
Full Coverage Composite Veneers: Our full coverage composite veneers provide an excellent alternative to traditional porcelain veneers for patients who desire a more comprehensive solution. Our cosmetic dentists will skillfully apply layers of composite material to the entire tooth surface, creating a stunning, natural-looking result that can dramatically improve the appearance of your smile.
Our dental clinics in Barnet, Ashford, and Rochester are dedicated to providing our patients with world-class composite bonding treatments that exceed expectations. Our commitment to excellence, combined with our exceptional cosmetic dentists and state-of-the-art facilities, ensures that you will receive the highest quality care
Back to Cosmetic Dentistry