Porcelain Veneers VS eMax Veneers
07 / 06 / 2021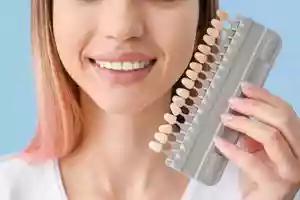 Do you have small imperfections that are holding you back to have your perfect smile?
GM Dental and Implant Centre has been helping their patients achieving the smile they always wanted with many different products. The most common question to our patients is, which product should I choose?
It's no Secret that most of the patients choose dental veneers to correct their minor issues. Veneers are thin layers of tooth coloured material that when is bonded to your natural teeth, they offer an effective solution for minor cosmetic imperfections or problems as crooked, discoloured teeth and gaps issues. Have a look on this two options and see which one is right for you.
Porcelain Veneers
Porcelain Veneers can bring your smile back to life with minimal delay. Most of the times, these veneers can be placed in just two visits. The Porcelain shells will be custom made specifically for you, they will create the right shape and colour to address the issues and match your natural teeth.
To apply the custom made porcelain shell in to you tooth, the dentist will gently file the tooth and then the veneer will be bonded into place.
The porcelain veneers do not last forever, they generally have a lifespan of 10 to 15 years. With the veneers you will still need to brush your teeth, ideally after every meal, floss and visit your dentist for your regular check-ups.
eMax Veneers
eMax Veneers are different than the traditional Porcelain Veneers. The eMax Veneers are crafted from lithium disilicate glass-ceramic. This type of veneers will give you a natural appearance and is one of the most recommended to the patients. The eMax veneers are handcraft and customized in a way that all the teeth done will match up your natural look, shape and colour. Another advantage of the eMax Veneers is that the treatment will not extract a lot of the enamel as the shell of the veneers is thinner than the traditional veneers. These veneers are also stronger and more durable material that is more difficult to chipping them off.
Finally, eMax veneers gives you a more realistic appearance as most of the traditional porcelains are opaque, which can make them seem dull in comparison to natural teeth. The quality of the material used will give you a beautiful smile, a smile that is a closer match of having natural teeth. Your smile will be transformed with eMax that will boost your confidence to face the world with an amazing smile that looks and feels natural.
The eMax veneers will not last forever, but as they are made with a stronger and more durable substance, these veneers can last up to 20 years or more with the right care.
How much it costs?
The Cost Is:
Porcelain Veneers cost from £560 per tooth (Lifespan 10 to 15 Years)
eMax Veneers cost form £698 per tooth (Lifespan 20years or More)
Book your Consultation
If you would like to book a consultation, please feel free to contact GM Dental and Implant centre Reception and our team will help you with your appointment.
Our reception number is 01634718882, and our opening times are, Monday to Friday from 09:00 a.m. to 5:30 p.m.
Back to Blog