Dental Implants In Rochester
02 / 10 / 2020
Getting dental implants in Rochester are effective and long-lasting solutions to replace one or multiple teeth, and removes the healthy structures. Permanent dental implants provide greater structural support and a longer life span in comparison to bridges and dentures. The implants and supporting structures are made from titanium, a strong and safe material that joins to the bone.
​Implants are placed in the bone as an effective, long-term solution for replacing the roots of the original natural teeth. New artificial teeth provide people with normal function and a natural appearance. The success rate for dental implant treatment is 90-95%.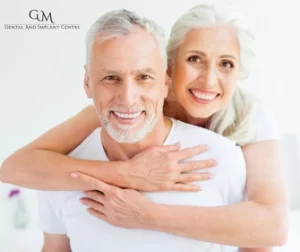 At GM Dental and Implant Centre, we have a dedicated and experienced team that will be able to give you the right support with long-term
maintenance and treatments. Implants should be carried out by highly-experienced dentists who are able to offer the best, user-friendly solutions, advising you of the process, as well as financing options.
Aesthetic tooth replacement solutions should improve the standard of patient care.
What you gain with dental implant

Better comfort
Easier and improved eating.
Improved self-esteem.
Greater durability.
Higher convenience.
Are dental implants right for you?
As long as you are generally healthy and able to withstand tooth extraction and oral surgery, with plenty of bone and good gums to hold the implant in place, you should be able to have a dental implant.
Treatment and aftercare must include good oral hygiene and regular dental visits.
Reasons for individual, special evaluations
Some applicants for a dental implant may not be automatically accepted and will need to be individually evaluated on merit if the following applies:
You are a heavy smoker.
You have uncontrolled and/or chronic disorders, such as diabetes or cardiovascular conditions.
You have received radiation therapy in the head or neck areas.
Different kinds of dental implants
​In place of an individual crown, few people have attachments on the implant to retain and support dentures. Dentists try to match the colour of the new tooth with the patient's natural teeth. An implant can be secured within the jawbone and the replacement teeth should feel, look and function like natural teeth.
​
Looking for reliable services for dental implants in London Road in Rochester?
​
Just give us a call 01634718882 or schedule an appointment and ask any queries from our dental implant specialist!
To request an appointment please click below on "Book Now".
Back to Blog