All On Four
26 / 10 / 2020
What is All-On-Four?
The All-On-Four or As we also call "Smile In A Day" procedure is a treatment that has been developed over the past of 20 Years, Involving the placement of 4 titanium implants into either an upper or lower jaw and then placing a whole set of teeth on them. In most of the cases, the treatment can be completed in one day.
In the usual approach to the All-On-Four method, patients receive a temporary acrylic set of teeth after surgery and they're told to return in a few months to have a more aesthetic and a stronger set of teeth made wich often have a titanium foundation.
At GM Dental and Implant Center, we've developed a unique concept where the immediate set of teeth that patients receive is actually the permanent set, it will be more aesthetic, more comfortable and stronger. This way of doing the treatment at our practice it is a real benefit to our patients, as it saves considerable time and money in the long run in comparison with staged implant treatments.
One of the other problems with techniques involving the feeding of a temporary bridge apart from being unreliable and difficult to clean is the potential long-term effect on the health of the dental implants and bone loss, the main concern is that this treatment when problems become known is complex to undo and often impossible to redo.
All-On-Four bridge can only be removed by your dentist.
What would be the cost of Dental Implants?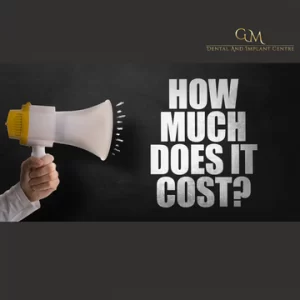 Typically in clinics where they provide all-on-four treatment, the average cost goes from £10 000 to £30 000, this includes workup procedures, the surgery, the fitting of immediate and final teeth, reviews, x-rays at three weeks and four months. This will also depend on the type of bridge you want to have as there are different ones.
At GM Dental and Implant Centre the average cost of the All-On-Four Procedure goes from £11000 up to £16 000 per arch. It is important to have an assessment with our dentist to see if this treatment is suitable to you and also see all the options available including the final price.
At our Dental practice in Rochester, we are currently offering a free consultation to all our new patients. If you have interest in getting a free consultation please give us a call on 01634718882 or simply click on the icon below to submit a contact form and one of our team members will call you as soon as possible.
Back to Blog