All-On-Four / Smile In A Day Dental Implant
23 / 10 / 2020
All-On-Four / Smile In A Day Dental Implant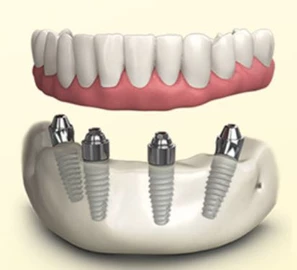 The All-On-Four procedure can give you a new smile, make you more confident and give you a new beginning. It is definitely the best investment for people that are looking for a permanent solution, something that will last and give them the confidence to smile. As soon as you have this procedure, there are no more reasons for you to hide and be yourself.
What is a Dental Implant?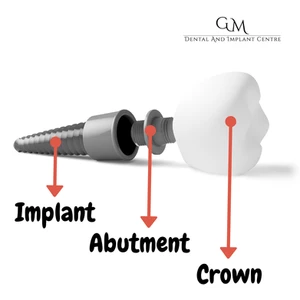 A Dental implant is a medical device in a form of a screw that is inserted into the jawbones of a patient. The purpose of the implant is to support either an extra tooth, a bridge or a removable denture, but the implant is mainly the screw, it's made of either titanium, or an alloy mixed with titanium or it can be made of a material called zirconia.
The magic behind the dental implant is that the body cells become drawn to it or attracted to it, so the implant becomes fused with the patient's body, then you can hang anything off of it as long it's working and it is kept healthy.
What is Smile In a Day or All-on-Four?
Can anyone have this procedure?

Smile in a day or All-on-Four is something that a lot of people ask about, this is a treatment that will have to remove all your teeth, insert 4 to 6 teeth implants and attached new teeth immediately.
This treatment can only be done under certain conditions, which you will have to be assessed by a dentist before going forward with the treatment.
To have a Smile In A Day, the patient will come for example at 10 am and leave by 3 or 4 pm with a brand new set of teeth. For this procedure, it requires the right anatomy, the right type of implants and the right conditions in the patient. Also, a lot of patients ask us on their first consultation if it is painful, we can assure you that is not painful at all.
How much does Smile in a day cost? Why is there a wide range of prices?
Smile in a day can range in price from as low as £10 000 for a full set of teeth and all the way to £40 000 and this differs depending upon what the patient is having done exactly, is it having just provisional set of teeth done, is it having temporary set attached to the implants, what is the final set of teeth made of, is it made from metal with acrylic, or made from the latest materials like zirconia, who's doing the treatment, how many implants, where is it being done and what laboratories are involved because of their fees and costs. Is it being done abroad in Europe or in the UK, where all the teeth are being made, is the Laboratory technician attending on the day and how experienced is the surgeon? So the prices vary a lot depending on all of these factors.
If you want to book a free consultation, with no-Obligations, please contact GM Dental and Implant Centre or submit a form in our website and our team will contact you to book you in.
If you want to contact us directly you can call us on 01634718882
You can also submit a contact form and we will contact you as soon as possible. Please click here to submit a contact form:
Back to Blog